Aktuelles | Kontakt | Forschung | Lehre | Sonstiges
---
Chris Wendl

Professor für Differentialgeometrie und globale Analysis am Institut für Mathematik der Humboldt-Universität zu Berlin.

Quick links: Short Vita Publications my research blog Berlin-Hamburg Symplectic Seminar CAST 2019 Workshop



Aktuelles / News

My research group in symplectic and contact topology at the HU Berlin has just advertised a 3-year postdoc position and two PhD studentships to start in Autumn 2019 (or sooner if preferred). These are all research positions, so no teaching (and thus no knowledge of German) is required. The salary for the postdoc position is TV-L E13 (for those who know what that means... if not I can clarify), and the Ph.D. studentships are on the same scale but as half-time positions, so the salaray is comparable to a standard Ph.D. scholarship as offered e.g. by the Berlin Mathematical School. (Students interested in a Ph.D. studentship should also apply to the Berlin Mathematical School; the required application materials are mostly the same.) Please send me e-mail if you have any questions. The application deadlines are January 1, 2019.
We will be hosting the next installment of the CAST (Contact and Symplectic Topology) workshop series here at the HU Berlin from March 7 to 9, 2019.

Kontaktinfos / Contact information

Anschrift / mailing address:
Chris Wendl
Institut für Mathematik
Humboldt-Universität zu Berlin
Unter den Linden 6
10099 Berlin
Germany

Büro / office:
Rudower Chaussee 25 (Johann von Neumann-Haus), 12489 Berlin
Haus 1, Raum 301
phone: +49 (0)30 2093 1628
fax: +49 (0)30 2093 2727
Sekretariat: Kati Blaudzun

e-mail: wendl at math dot hu dash berlin dot de


Sprechstunde / office hours (Wintersemester 2018-19):
Dienstags / Tuesdays 15:00-16:00

Aktuelle Mitarbeiter der Arbeitsgruppe / Current members of my research group:


This is me, wielding my trusty water bottle to protect Imperial China from Mongol invasion.


---
Forschung / Research
My research is in symplectic and contact topology, particularly the theory of pseudoholomorphic curves, applications to contact manifolds, and symplectic field theory.
Here is my publications page.
I am an editorial advisor for the Proceedings / Journal / Bulletin / Transactions of the LMS, in the area of symplectic and contact topology.
Seminars of interest:
Upcoming conferences / workshops:
And some conferences in the recent past.
Past events that I organized:
PhD students:
If you are interested in doing a PhD under my supervision, you should apply to the Berlin Mathematical School. This generally works best if I know enough about you to enthusiastically support your application, so for that reason it's a good idea to contact me ahead of time. (In some cases there may also be funding available that you would need to apply for separately from the BMS --- if so, I will tell you.)
Master's students:
My collaborators, present and past:
---
Lehre / Teaching
Wintersemester 2018-19
Sommersemester 2018
Lehre in vergangenen Semestern / teaching in past semesters
Past minicourses and such
---
Sonstiges / Other stuff
The Mathematics Genealogy Project: I'm descended from Gauss. Really.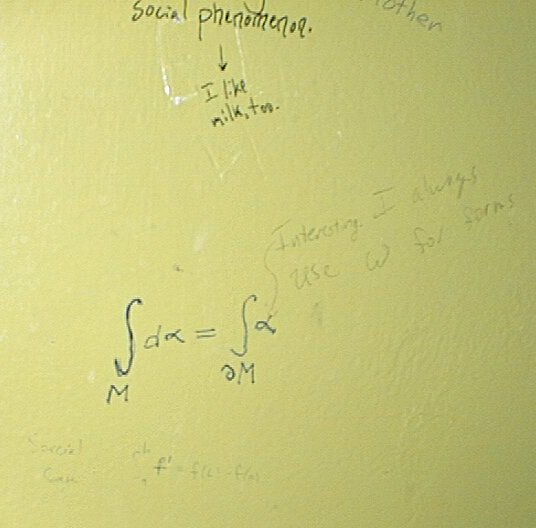 (Some unusual grafitti I found on a bathroom wall at the Diesel Cafe in Somerville, Massachusetts. March 13, 2007.)
A Frequently Asked Question
Question: Aren't you German?
Answer: No. Don't let my name, or my appearance, or the fact that I teach at a German university or that you've overheard me speaking German with colleagues fool you. I am, in fact, not German.
An Occasionally Asked Question
Question: Where did you learn to speak English so well?
Answer: It is my native language.
A Question That Is Asked Far More Often Than It Should Be
Question: Where did you learn to speak German so well?
Answer: I don't speak German that well, it only sounds like it if you don't listen carefully.
---
Some nonmathematical things
Trockne Blumen (the reason why I once spent a whole week learning musixtex, and then promptly forgot it)
---
top | news | contact info | research | teaching | other stuff
This page was created by editing HTML code in a text editor, because that's how we used to do things in the twentieth century.